2 Minutes
06/29/2022
One-time redeemable QR Code Coupons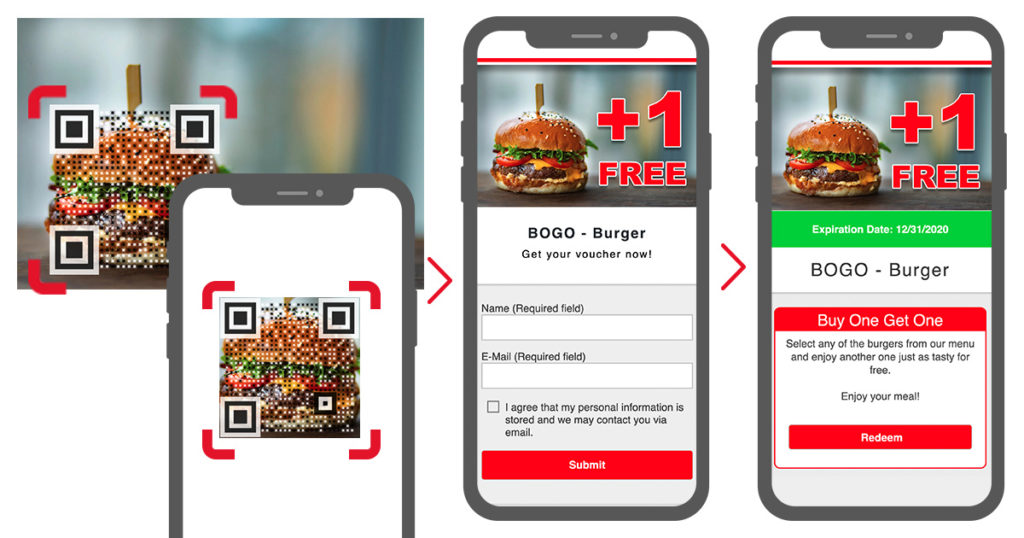 How to create one-time redeemable QR Code Coupons
1. Login to your account
Log into your account or create a new account. You can create QR Code coupons in any of our plans.
2. Create a coupon
When you are creating vouchers that are only allowed to be redeemed once go to the Landing Page section and click on Create Landing Page. Click on Create a new coupon and choose the One-time Redeemable.


3. Edit your coupon
Set your title, upload a coupon image and fill out a description.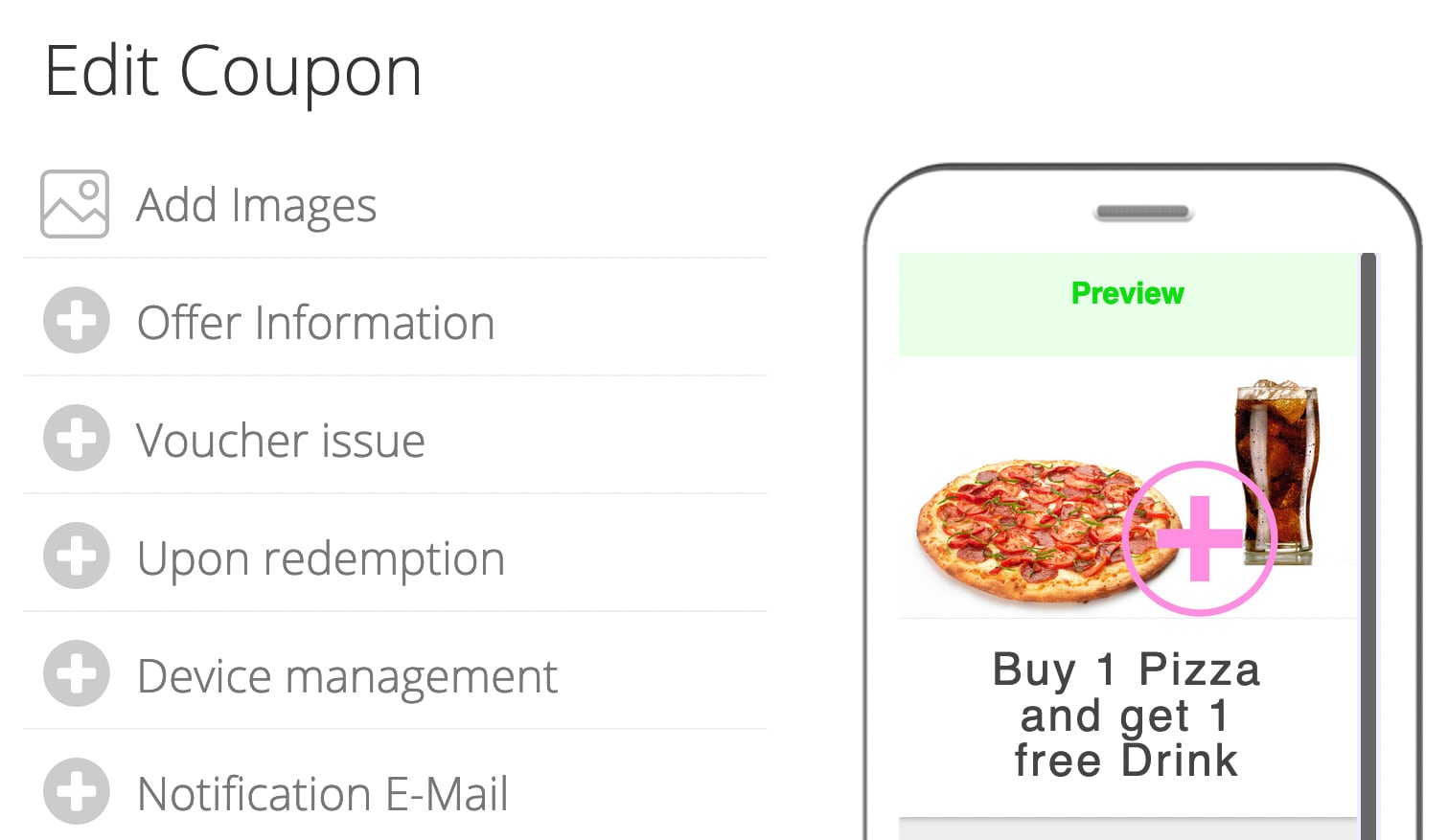 4. Create a set of unique vouchers
In the next step, you need to create a set of unique QR Codes. This is done by clicking on Create Vouchers in the redeem section like shown below: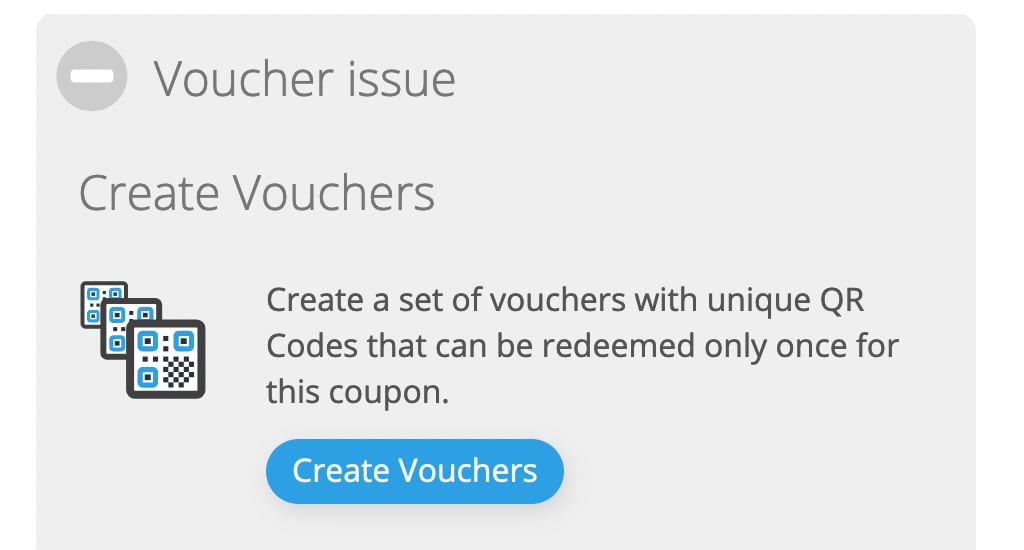 5. Set the number of vouchers
After that, set the number of unique QR Codes you want to send to your customers. Each QR Code will be printed on a separate voucher. Click on Create Vouchers and then you can download the QR Codes.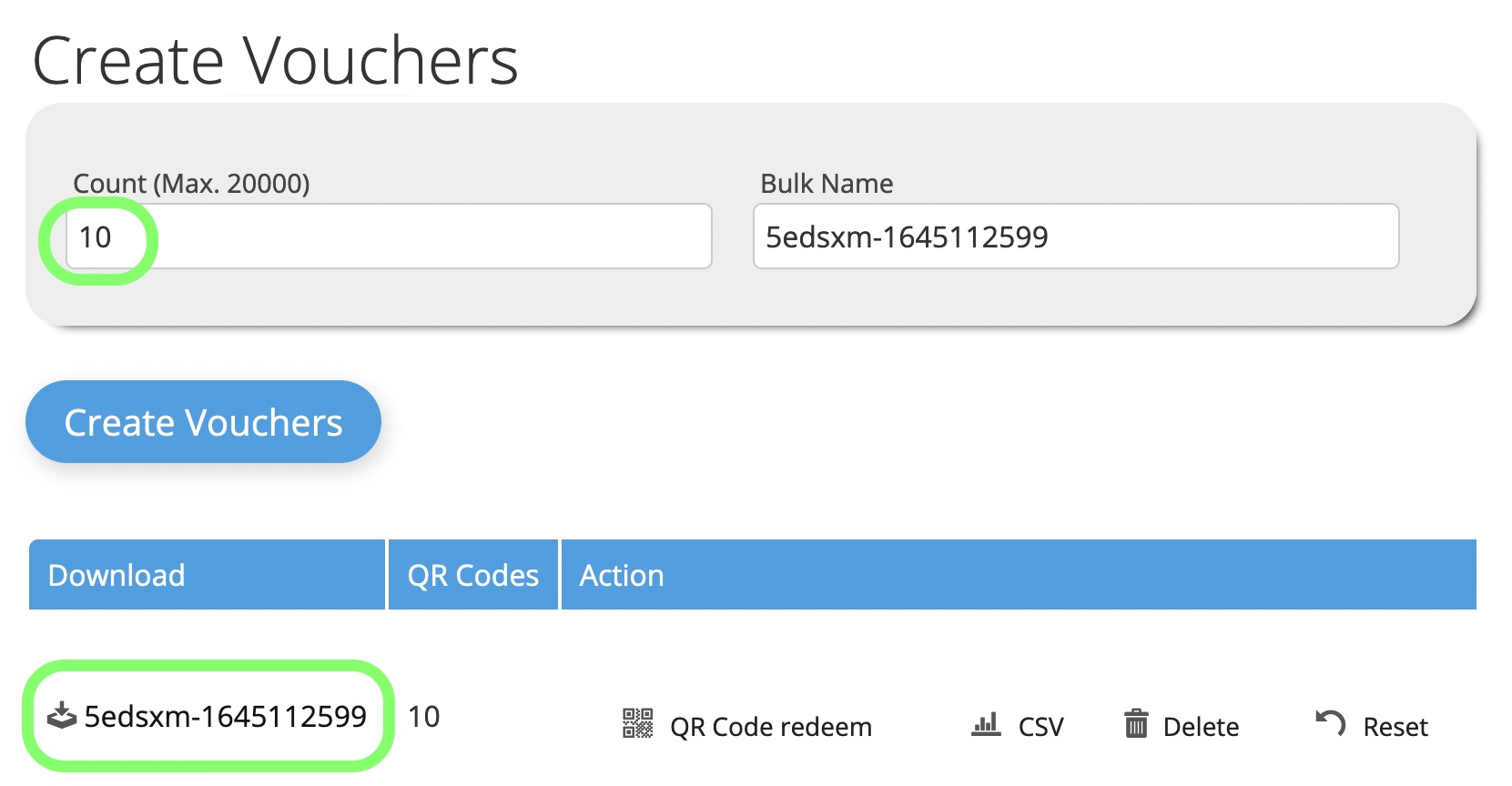 6. Download vouchers
When downloading the QR Codes select your format. We recommend you use a vector format like EPS or PDF for printing. Also set the Error Correction Level to L, which allows you to print the QR Codes in a smaller size.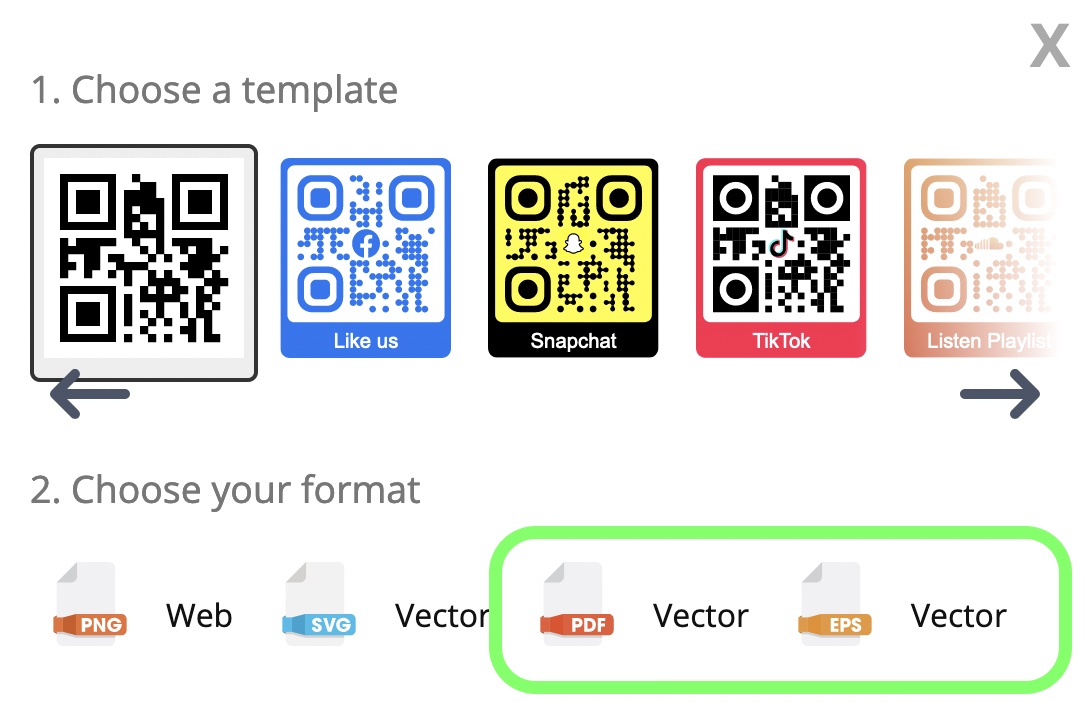 7. Test a voucher
When you scan one of the downloaded QR Codes you be redirected to the voucher showing a redeem button at the bottom. When the user taps the redeem button a QR Code is displayed that can be scanned by you or the shop owner to redeem the voucher: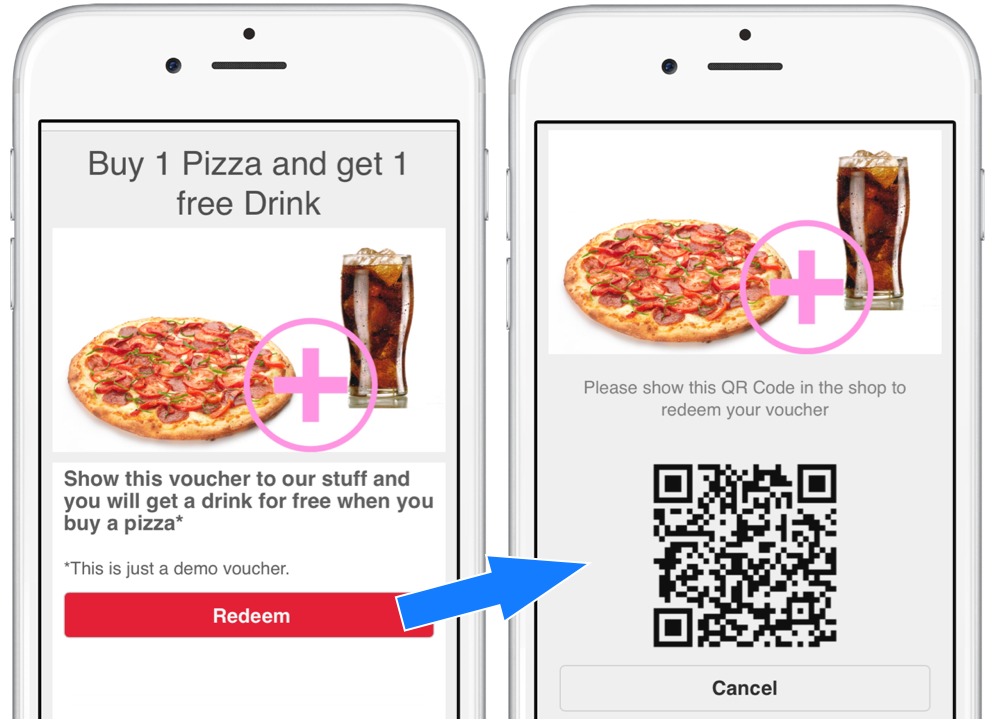 8. Get redeeming statistics
If you click on statistics in the landing page editor, you will see how many unique visitors have request a voucher and how many of them redeem a voucher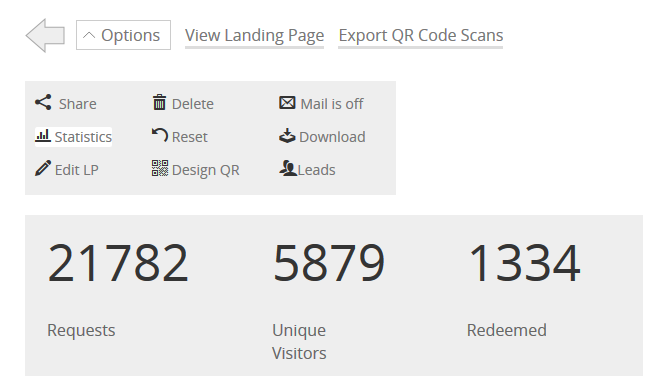 9. Authorize devices
Optionally, authorize specific devices that can redeem the voucher. If no device is authorized, any device can redeem them.
You can assign a name to each authorized device. It will be displayed on the redemption stats for each voucher.

A fallback URL can be displayed in case an unauthorized device tries to redeem a voucher.

You can also set a password to the coupon to prevent accidental redemptions.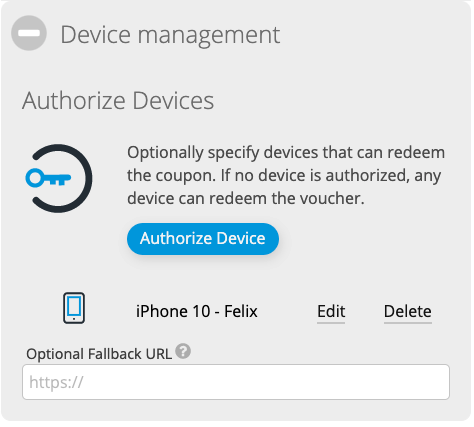 Mailchimp integration
One voucher per subscription
If you want to provide a unique coupon to a user when he subscribes to a Mailchimp mailing list, you can automatically do this by connecting Mailchimp with our platform through a Webhook.
After a new user confirms his subscription in Mailchimp he will receive a mail with a link to the one-time redeemable voucher.

Send vouchers to a mailing list
You can embed unique redeemable QR Codes in any of your mail campaigns by using merge tags. Each user will receive an email with a unique QR Code that only he can redeem at the shop or restaurant. Learn more about how to send vouchers to a mailing list

Coupon API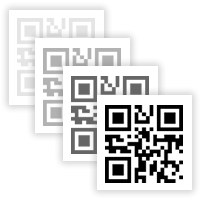 With the Coupon API you can issue the next redeemable QR Codes for a voucher, get the number of available remaining QR codes for a coupon and much more.
Webhooks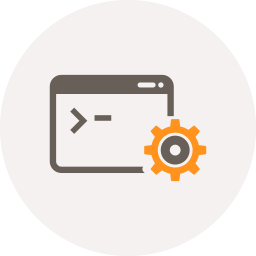 With Webhooks you can send event-based information to a customized URL. When an event e.g. VOUCHER_CREATED occurs, your given URL will be called (webhooked).