One-time scanable QR Code
To create a QR Code that can be scanned only once, you must first create a dynamic QR Code with a default URL, e.g. https://google.com
Now go to the options menu of the QR Code and click on "Scheduler"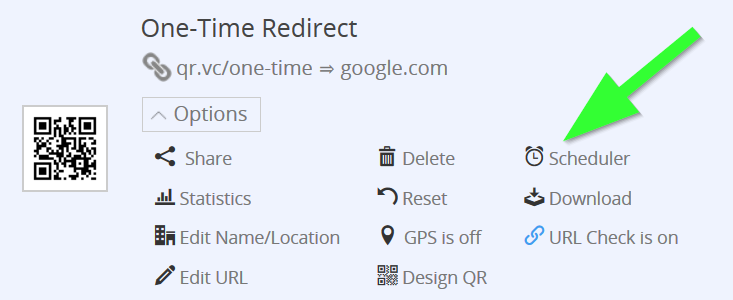 Now add a scheduled redirection, type in the URL you want to redirect the user only for one-time and set the number of how often you want to redirect to 1:
The QR Code is now redirecting the user for one time to the website https://yourcompany.com
If the QR Code is scanned again, the QR Code redirects to https://google.com
One-time scanable QR Codes are available in all paid subscriptions.
Please also see our one-time redeemable coupons solution. With this option you can create vouchers with a QR Code that can be redeemed only once.
One-time Redeemable Vouchers
You can create a batch of vouchers with a unique QR Code that can be redeemed only once.
One-time-redeemable Vouchers